Consultations : Diabetes Treatment & Many More-Online!
We Offer extremely Holistic Treatments to prevent diseases & to cure diseases.
Check out  few of our exclusive packages listed in a chart below!
Check out List of common diseases you are looking treatment for!
If you don't find your problem listed, call us to get your solutions!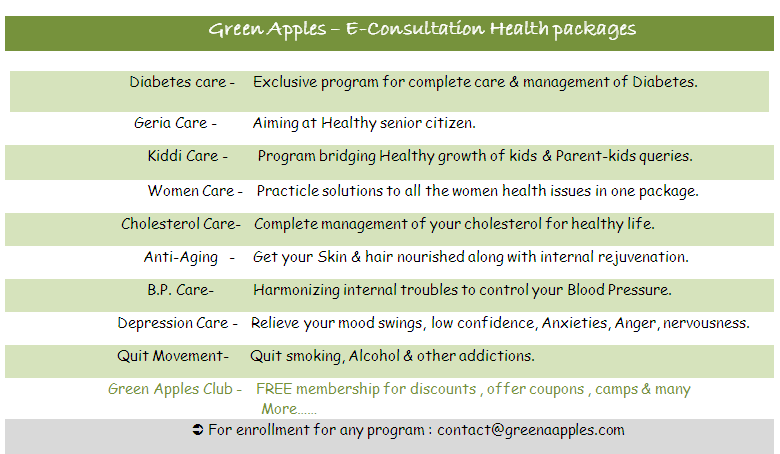 For Consultation & Appointment Booking mail us : contact@greenaaples.com OR Call/ WhatsApp Us at: 91 976-436-4946. For More Details, Click here.
Booking Guidelines: 
Call Us to Discuss about your concerns/diseases.
You will be guided about charges & therapies suitable to you.
Please Use Online transaction for payment as mentioned Below.
      Payment Methods: 
 NEFT / RTGS / IMPS / UPI has no restriction over amount of transaction.
Add our account in beneficiary that you will receive from us.
You can also deposit direct cash / cheque at your nearby bank to our A/C.
You can deposit directly in our bank account via E-wallets (PayTM / Freecharge/ Others)
For transaction details, Call Us Or Mail Us here. 
Have a look at interesting statistics below, which proves you are in time to opt for E-Consultations with Green Apples!
Benefits of E-Consultations- ( National + International Consultations! )

 Stay monitored & benefit continuous treatment which is the base of successful lifestyle modification treatments!
It includes ALL diseases & conditions like Diabetes Treatment / Weight Issues / Hormonal Problems etc. Check out more here!
Find your dietitian's support for your practical troubles timely to benefit more with the treatments!
Manage everything on your mobiles! Pay Online! Receive prescriptions online! Stay connected from across the world!
Don't miss out appointments 'cz of your busy schedule! This won't be barrier in your success now onwards with Green Apples!
We don't force for exercise at all ………………… !! Check out success stories where our clients have lost weight post surgery where mobility restrictions were there!!!
Our most unique Treatment Module (UTM) offers ease for Diabetes Treatments, Hormonal Issues and other sensitive cases where regular monitoring is required!
Get benefited with Dr. Ketki S. Itraj's experience & our unique treatment model.

For more details about our popular packages, click here!
World Reports Of E-Prescriptions reaching hike !
In 2014, 56 percent of physicians and 95 percent of pharmacies processed 1.2 billion electronic prescriptions on the Surescripts network, the country's largest e-prescribing network, officials reported. That number includes 67 percent of all new prescriptions.
Last July, the Office of the National Coordinator for Health IT reported that in the U.S. more than 70 percent of physicians e-prescribe, showing  an upward trajectory from 7 percent of docs e-prescribing in 2008, growing to 24 percent in 2011, estimating that 70 percent of physicians were prescribing electronically.
Europe holds the largest share in the e-prescribing market, according to the report. Many e-health projects in Europe are playing a vital role in the adoption of the e-prescribing systems, such as European Patient Smart Open Services and Schleswig-Holstein Health Initiative.
North America is the fastest growing region for eRX, according to Persistence. Increased adoption of the e-prescribing system and improved healthcare infrastructure are major drivers for the e-prescribing market. Several government initiatives,such as the HITECH Act and National Council for Prescription Drugs Program, are also promoting the usage of e-prescribing systems.
In Asia, usage of the e-prescribing systems is increasing due to medical infrastructure development and government initiative programs. Growing medical infrastructure has led to improvement in primary healthcare services, village clinics and urban healthcare centers through the adoption of healthcare IT technologies.
Reff : Dated July18, 2015: According to a recent report published by Persistence Market Research.